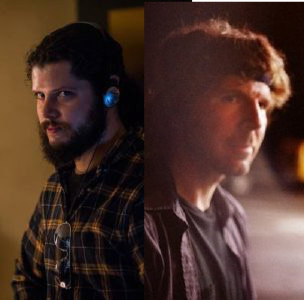 Born and raised in Stoughton Massachusetts, MARCUS SLABINE has always had a passion for film and making movies. He watched movies nonstop growing up of all kinds which would eventually lead him to creating the now defunct website, KICK ASS HORROR REVIEWS.
After moving and graduating from New York Film Academy, Marcus started working in the film industry full time working on films and TV shows such as THE DARK KNIGHT RISES, THE AMAZING SPIDER MAN 2, PREMIUM RUSH and TV shows such as GOSSIP GIRL, MYSTERIES AT THE M– USEUM and indie films like DISAPPEARANCE OF ELENOR RIGBY, and ANGRIEST MAN IN BROOKLYN. He has since gone on to solely direct, write and produce.
Marcus has since directed 16 Short films with his most recent being JANICE AND THE GOLDEN FLEECE which won Audience choice award, THE AUDIT starring William McNamara and is currently hired to shoot a feature film NICK AND NICKY which stars Sean Young. Marcus is currently prepping to begin production on a new horror film called THE LAST CALL which he wrote and will direct starring DAY OF THE DEAD's Terry Alexander.
==========================
JEREMIAH KIPP credits include THE SADIST starring Tom Savini, THE POD starring Larry Fessenden, CONTACT (commissioned by Sinister Six annual screening series), BAGGAGE starring Rob Dimension, THE DAYS GOD SLEPT, CRESTFALLEN, THE CHRISTMAS PARTY (Cannes and Clermont-Ferrand), EASY PREY (commissioned by NYC's annual VisionFest), DROOL (commissioned by Mandragoras Art Space), SNAPSHOT and THE APARTMENT (commissioned by Canon to premiere their XL2 at DV Expo 2004).
Producing credits include the feature films SATAN HATES YOU (created by Glass Eye Pix, starring Angus Scrimm, Michael Berryman and Reggie Bannister), GOD'S LAND, LET'S PLAY, IN MONTAUK, THE JONESTOWN DEFENSE and THE BED-THING (directed by Pulitzer Prize-nominated Matt Zoller Seitz).
Assistant director credits include I SELL THE DEAD starring Dominic Monaghan, SOMEWHERE TONIGHT starring John Turturro, ONE NIGHT starring Melissa Leo, and the Sundance Award-winning MAN (dir: Myna Joseph).