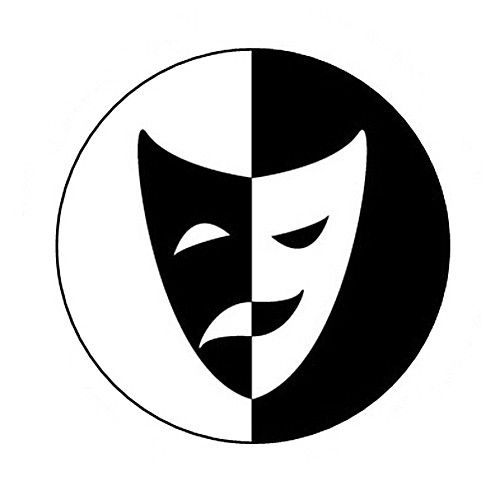 The tongue-in-cheek anthology, Abdication!, will be a featured event for the 10th anniversary THEATER FOR THE NEW CITY DREAM UP FESTIVAL 2019. Performances will be at the Johnson Theater Space at 155 First Avenue (between 9th and 10th Streets), New York City on 09/03: Tuesday, 9pm; 09/04: Wednesday, 6:30pm; 09/05: Thursday, 9pm; 09/06: Friday, 6:30pm; and 09/07: Saturday, 8pm. https://abdication.brownpapertickets.com/
Abdication! written by Naya James, directed by Lucia Bellini, produced by Lucia Bellini, Naya James and Trenton Clark, sports a Multi-Media Team that includes Raylla Chan (Animator) and Loredanna Vacario (AV tech) and is the first presentation of Three-Headed Lion Productions. It's fitting to have a multi-media team when your show is a multi-cultural, multi-media dark comedy more than reminiscent of Black Mirror, The Handmaid's Tale, and VR.
Abdication! delivers a tongue-in-cheek three-episode anthology shining a light on social media, human interaction, and finally - as depicted in The Handmaid's Tale - lack of individualism. These Black Mirror-type tales illustrate potential versions of what life will look like if we give away even more of our autonomy in exchange for convenience. What makes this company so forward thinking and what makes this series of plays so fascinating is that it sits on a scale where fantasy and reality are evenly matched.
Abdication! manages to depict technocratic society not only with dystopian gloom, but with a heavy dose of wit and comedy.
Ripped from the headlines of lonely people all over the world marrying their VR "girlfriend" or simply checking out of reality (called "going into the goo" in this episode), STUCK - through wry humor and charm - shares how a close-knit Italian-American family grapples with the idea that one of its family members plans to remove from society by hooking up full-time to a virtual reality network. What dreams may come.
Riffing on the news stories of how people are now having less sex thus fewer children, LOVE LOBOTOMY relates the story of two hapless souls deciding to undergo Amigdalar Resurfacing, (a "Love Lobotomy") making them immune to romantic feelings and more productive... maybe.
Running alongside A Handmaid's Tale, COLOR SCHEME takes us to a society where everyone has been classified into a specific color-red, green, blue, etc., and the implementation of this system has ostensibly led to perfect harmony. Until someone mixes and matches.
Filled with gallows-humor, song, dance, and multi-media, each episode shows how abdication of a portion of human existence pulls a piece out of the house of cards that we call our lives.
Appearing in this triumvirate of techno-tales is Amanda Cannon, Trenton Clark, Alan Cordoba, Janet Donofrio, Naya James, Stephen Keyes, Cesar Lozada, Mike Ivers, Sid Ross, Meredith Rust, Tony Scheer, and Topher Wallace.
The production/design Team is an amalgam of theatre and video professionals: Naya James (playwright); Lucia Bellini (director); Charles Casano (stage manager); Raylla Chan (animator); Loredanna Vacario (AV tech) and Trenton Clark (producer).
The Three-Headed Lions themselves:
Writer Naya James is a writer/actor/producer in New York City. She is a resident actor and writer in the Wednesday Repertory Company and owner of Anjali Productions, an independent film production company focused on stories of the evolution of human consciousness. Writing credits include 12 original one-act plays produced in festivals all over New York, including Theater 54, The Paradise Factory, The Algonquin, and the Richmond Shepard Theater, and three short films, which she also produced. Naya can be seen this summer as the lead in the film "Indigo" by Garfield Boston, and this September in the World Premiere of Abdication! at Theater for the New City, which she wrote and co-produced.
Director Lucia Bellini aka "Lu" is a director/actor for film and theatre originally from Viareggio, Italy. Member of Wednesday Repertory Company and NY Madness. Lu is proud to have won the award for Outstanding Direction of a Staged Reading for Who Mourns For Bob The Goon? at the 2015 Planet Connection Festivities, followed by a run of the show at the HERE Arts Center in the Summer of 2016. Her collaboration with the Festivities continued assisting Glory Kadigan for PFAC 2017 and 2018. Recent credits include direction of the 2018 Planet Connection Festivities Award Ceremony at the Abrons Arts Center's Playhouse Theatre, direction of Naya James' one act play Stuck for Wednesday Repertory Company and assistant director to Glory Kadigan for The Floor is Lava at La Mama Experimental Theatre.
Producer Trenton Clark is an actor/writer/director in New York City. He is a member of and resident director with the Wednesday Repertory Company, for which he has mounted several one-act plays. A graduate of the American Musical and Dramatic Academy in NY, he has studied the craft for over 20 years on both coasts, as well as his home state of New Mexico. New York Theater credits: Hamlet, Hamlet; Lucius, Titus Andronicus (Hudson Warehouse); Rope; The Head Hunter; Wilde Nights (St. Francis College). Tours: 42nd Street. Regional and other: 42nd Street, Beauty & the Beast (Papermill Theater); Happily Whatever After (New World Stages Hollywood, LA). In addition to Abdication! Trenton is currently developing a television series based on a true story of murder and corruption. Stay tuned.